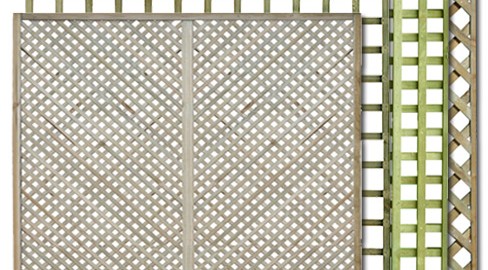 See our range of Garden Trellis Panels and Trellis Fencing. Trellis has many uses it can be used in the garden as a garden feature, garden panel, screening or for plants to grow up. Tate Fencing only stock and manufacture Quality Garden Trellis Panels.
Display 15 Products per page
Trellis Panels
If you are an avid gardener, Trellis panels can offer a range of ornamental uses, for planting, screening and can add features and structure to garden designs.
Our heavy trellis panels are extremely sturdy, perfect for use with heavy planting and as a robust trellis, available in square or diamond design. Tate have both Standard square whole panels and regal diamond whole panels which come in a variety of, Square, Bow Top, Scallop Top and Omega Top styles, providing ornate, sturdy panels and good value for money.
We also stock a range of specialist Trellis' designed for particular plants and purposes. Such as the clementine trellis panel, which has a very small 25mm hole pattern, designed for greater privacy. Our English rose trellis is available in a wide variety of shapes and sizes suitable for any climbing rose, wall or space.
Trellis panels can also be used as a top to traditional Closeboard Fencing. This not only an ideal way to add height to your fence but also can make a fence more decorative and improve the overall look and feel of a fence line.
You could also choose to wall mount your trellis as a discreet covering or for the use of growing plants. Panels can also be installed as freestanding objects using tanalised softwood fence posts.