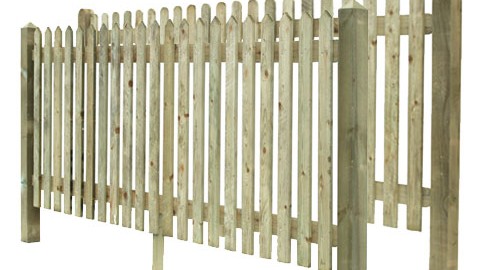 Palisade Fencing also known as picket fencing is available from Tate Fencing in kit form. Choose a height ranging from 0.9m up to 1.8m in either round or pointed top. Sawn or prepared finish is available depending on the chosen environment for the finished fencing.
Display 15 Products per page
Timber Palisade Construction
Palisade in kit form from Tate Fencing is supplied with mortised posts to accommodate your choice in arris rails which helps to create a strong framework for your palisades to be fixed to. The number of mortises and their position is variable depending on the height of palisade you require as all our posts are machined to order. Each post would be shaped to match the particular palisade top that you have chosen; pointed top posts for pointed top palisade and round top posts for round top palisade.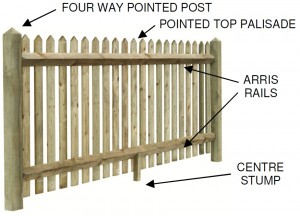 Bay prices include all the components to complete one bay; 1 mortised post, arris rails, centre stump and palisades to cover your chosen bay size (1.8m / 2.4m / 3.0m). In order to complete you fence run, you would need to include an end post or wall plate.
Choose from two finishes of palisade; sawn finish, our standard palisade material or prepared finish which is suited for use in schools or to be painted due a smoother finish to the timber components. For prepared finish kits, a 47 x 75mm rectangular rail is used instead of arris rails as this eliminates any sharp edges.