Tate Fencing can help you create an attractive deck; from framework and joists required, hardwood and softwood decking boards, support posts, hand rail options and accessories. Looking for some help to design a deck that works for you? Feel free to contact us for a quote by clicking here.
Display 15 Products per page
A deck is now accepted as an outside living room, an extension of living space in your home. Turning previously unusable pieces of ground into a relaxing and enjoyable environment. However small or large the area, a deck compliments every garden.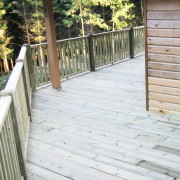 Need help designing your deck?
Send your drawings and/or measurements to [email protected],
for an accurate quotation including all necessary components to complete your project.
(Or send us a quote request, click here)