Tate Fencing can help you create an attractive deck; from framework and joists required, hardwood and softwood decking boards, support posts, hand rail options and accessories. Looking for some help to design a deck that works for you? Feel free to contact us for a quote by clicking here.
Display 15 Products per page
Decking Construction - Constructing the perfect deck
A deck is now accepted as an outside living room, an extension of living space in your home. Turning previously unusable pieces of ground into a relaxing and enjoyable environment. However small or large the area, a deck compliments every garden.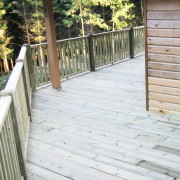 Decking Support Posts and Framework
Under and above the decking, support posts are set at a maximum of 2.4m (8′) centres (unless existing walls and buildings are available to secure your deck to).
The base construction consists of 47 x 100mm or 47 x 125mm or 47 x 150mm timber, dependant on the load bearing requirement and the height the deck stands off the floor.
Larger sizes are available from stock if required. The main joists run the length of the decking at a maximum of 2.4m (8′) between the decking support posts.
The inner joists are spaced at a maximum of 450mm (18″) centres and also supported at a maximum of 2.4m (8′) centres. For easy assembly, joists can be secured using 'Landscape Screws' or 'Joist Hangers'.
Need help designing your deck?
Send your drawings and/or measurements to sales@tatefencing.co.uk,
for an accurate quotation including all necessary components to complete your project.
(Or send us a quote request, click here)